Phantasy Star Ultimate Timeline Date Converter
Phantasy Star Ultimate is the complete Phantasy Star series timeline as arranged by myself and James Maxlow, webmaster of The Phantasy Star Pages. This program for Windows 9x/Me/NT/2000/XP allows you to convert any date from one of the three calendars Phantasy Star Ultimate supports to the other two.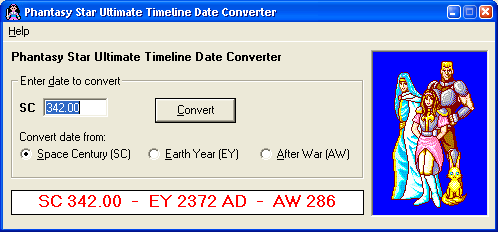 Click here for download
(1.42 MB ZIP)
---
Winamp Skins
These skins are for use with Nullsoft's popular media player Winamp, but they can also easily be converted to Windows Media Player skins with the Windows Media Player Bonus Pack. Right-click the links or the preview picture to download.
---
Windows Icons
These Windows icons were created by me (*) and may be downloaded and used freely on your computer. They are not available individually, but only in a 9k ZIP file.
(*) Except for the Hapsby icon. That one was donated by PhanGarrett.